Release of minor versions of classical Abacre Point of Sale products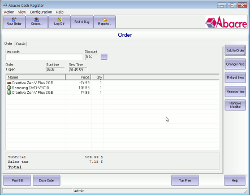 Released:
Abacre Restaurant Point of Sale v12.3
Abacre Retail Point of Sale v11.3
Abacre Hotel Management System v9.3
Abacre Cash Register v8.3
Abacre Inventory Management and Control v8.3
The list of changes:
* Feature: it's not possible to automatically send copies of orders and end of day reports to by email. Use options: Notifications Email, Send Email on Close Order and Send Email on End of Day located on menu Configuration - Preferences - Email.
* Feature: added new option "Show Alternative Name" on menu Configuration - Preferences - Order - Order Details. With this option alternative name of item will be shown on Order window after item's name.
* Improvement: on Order window height of categories panel could be close to zero. This update will set minimal height of categories panel to 100 pixels (on program's restart).
* Bug fixed: on Kitchen/Bar window the list of items could be empty if "Use Tables" option on Preferences window was unchecked.
* Bug fixed: "Is not a valid floating point value" error message could be shown on Take Payment and Media Totals window for currency formats with grouping separators like #,##0.