Release of minor versions of classical Abacre Point of Sale products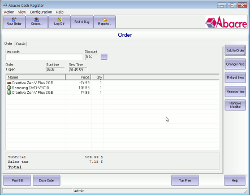 Released:
Abacre Restaurant Point of Sale v12.2
Abacre Retail Point of Sale v11.2
Abacre Hotel Management System v9.2
Abacre Cash Register v8.2
Abacre Inventory Management and Control v8.2
The list of changes:
* Feature: added new option "Keep old order closing date on re-opening order" on menu Configuration - Preferences - Order. This option is useful when it's needed to re-open closed order, change some order's details (like changing wrong payment method) and then close the order. With this option the order's closing date will stay the same as before.
* Improvement: when option "Allow selling items with zero on hand quantities" is turned off the verification for on hand quantities is only performed for items with checked "Is Stock Item" option. Thus the verification for zero quantity is not performed now for sales items ("Is Sale Item" option) which are not inventory items ("Is Stock Item" option is unchecked).