Release of minor versions of classical Abacre Point of Sale products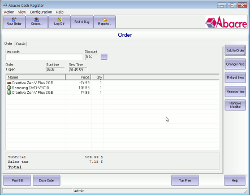 Released:
Abacre Restaurant Point of Sale v12.1
Abacre Retail Point of Sale v11.1
Abacre Hotel Management System v9.1
Abacre Cash Register v8.1
Abacre Inventory Management and Control v8.1
The list of changes:
* Feature: added Reorder Point field on Inventory tab of Items window.
* Feature: added new alert when adding item to order to see if the on hand quantity is reached to reorder point.
* Feature: added new option "Show items reached reorder point" for report: Inventory On Hand by Items (Current Stock Location). This option is used to see which items should be re-ordered.
* Bug fixed: in some cases on hand quantity of item could be less than zero. For example, when current on hand quantity was 3 and the worker ordered 5 items. New on hand quantity could become -2.