Release of minor versions of classical Abacre Point of Sale products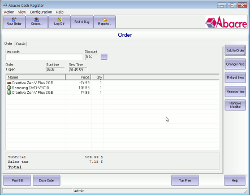 Released:
Abacre Restaurant Point of Sale v11.4
Abacre Retail Point of Sale v10.4
Abacre Hotel Management System v8.4
Abacre Cash Register v7.4
Abacre Inventory Management and Control v7.4
The list of changes:
* Feature: added new column: Barcode on Physical Inventory window.
* Feature: it's possible to show or hide columns of grids on Physical Inventory, Items, Clients, Vendors, Orders and other windows by right-clicking on column's header cell.
* Bug fixed: pressing Log Off button and then pressing Enter button on Login window could show Login window again.
For Abacre Restaurant Point of Sale:
* Feature: added support of Quotes.