Release of minor versions of classical Abacre Point of Sale products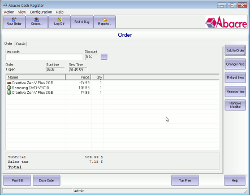 Released:
Abacre Restaurant Point of Sale v11.10
Abacre Retail Point of Sale v10.10
Abacre Hotel Management System v8.10
Abacre Cash Register v7.10
Abacre Inventory Management and Control v7.10
The list of changes:
* Feature: added new option on menu Configuration - Preferences - Inventory: "Create new items on import". With this option if an item does not exist yet in list of items then it will be added. Otherwise such unknown item will be skipped during import. This option works for importing items on Purchasing windows. The items are always created when doing import on menu Configuration - Import. Read more.
* Improvement: added better handling of broken import files where the items are split into several lines. This is related to import of items on menu Configuration - Items.
* Improvement: Added control of text's size for items's name, code, barcode and note columns on menu Configuration - Items - Import Items button.* Improvement: implemented more reliable import of items when some columns like prices, quantities may contain non-allowed chars.
* Bug fixed: "Card reader connection type" was incorrectly set for door lock system.