Release of minor versions of classical Abacre Point of Sale products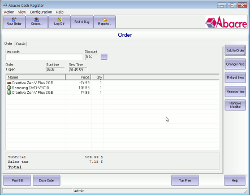 Released:
Abacre Restaurant Point of Sale v11.1
Abacre Retail Point of Sale v10.1
Abacre Hotel Management System v8.1
Abacre Cash Register v7.1
Abacre Inventory Management and Control v7.1
This is an important update. We know some of our customers have been using our software on every day basis during the past 10 or even 15 years. Some of the customers already retired and their children continue to run the business.
The databases grew in size. On some windows like Orders or Clients the software may display the lists quite a long time (up to several seconds).
With this update we did a major update of our internal library used for database access. And we did many speed optimizations on the windows with long lists of data. As the result the speed of displaying Orders, Clients and other such windows may be in increased 5 or even 10 times. You may not notice the speed increase on small databases. But it will be really visible on large databases. The speed increase will be also noticeable on computers working in network with two or more computers are working on the same database.
Therefore we encourage every user to upgrade into the latest version.
The list of changes:
* Feature: Made major update of database library and implemented many speed optimizations on windows with log lists of data.
* Feature: New option: Show daily totals in status panel. With this option it' possible to see daily totals for open and closed orders on Orders window.
* Feature: New option: "Process variable length barcodes" located on menu Configuration - Preferences - Hardware - Barcode Reader. With this option it's possible to process, for example, barcodes with length of 6 or 8 digits.
* Feature: Added Save buttons Item Modifiers, Inventory Units and Inventory Categories windows.
* Bug: in rare cases orders could not be closed.
* Bug: error message could be shown on menu Configuration - Item Modifiers when there were no modifiers.
* Bug: error message was shown when trying to save a category without name on menu Configuration - Item Categories window.