Release of minor versions of classical Abacre Point of Sale products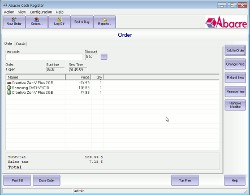 Released:
Abacre Restaurant Point of Sale v10.9
Abacre Retail Point of Sale v9.9
Abacre Hotel Management System v7.9
Abacre Cash Register v6.9
Abacre Inventory Management and Control v6.9
The list of changes:
* Feature: added Tag selection field on Order window - Details tab. Now it's possible to "tag" orders. Tags may be entered on menu Configuration - Order Tags. On Orders window it's possible to search for orders by typing tag's name.
* Bug fixed: when invoice was not paid the black line could be displayed when previewing or printing invoice.
* Improvement: changed fonts on Property Settings window to correctly display Arabic and other fonts.
In AHMS:
* Feature: added Rooms column on Reservations and Stays windows. It's also possible to search for room code on these windows now.
* Feature: added new report: Stays List.